________________________________________________________
Battery cautery set
This high temperature battery cautery set represents a high-quality product. The interchangeable Platinum-Iridium filament tips do not oxidate. The cautery device can be used to stop bleedings and for coagulation of blood-vessels. But it is also applicable for ophthalmologic, dental and ENT purposes.

The battery cautery set (including batteries) can be supplied with 2 filament tips (990) or with 5 filament tips (990-5). The filament tips are reusable and autoclavable. They can also be supplied separately.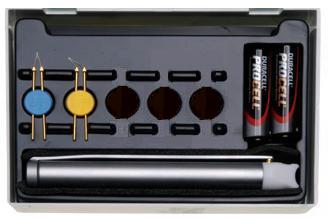 990m....mBattery cautery set with 2 filament tips (991, 992)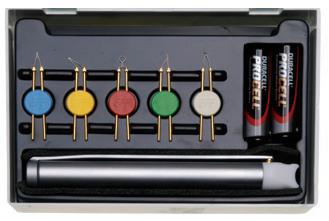 990-5m..mBattery cautery set with 5 filament tips (991, 992, 993, 996, 997)


Available filament tips as spare part: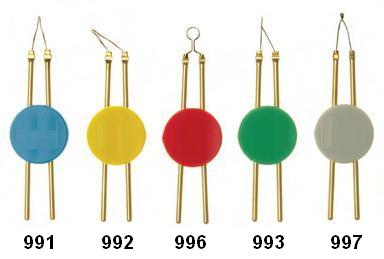 991m..mfilament tip straight
992m..mfilament tip angled
993m..mfilament tip for epilation
996m..mfilament tip sling
997m..mfilament tip olive



----------------------------------------------------------------------------------
User hints for the battery cautery set:
General hints and safety instruction:
Before using the battery cautery set read its instruction (delivered with the device) carefully and keep it in a safe place for future reference. Misuse or any modification is not under the responsibility of the manufacturer.
Batteries:
To replace batteries please use type Mignon, LR6 e.g. Duracell only. Don't use chargeable accumulators because this can destroy the filament tip due to the difference in the electrical caracteristics.
Cleaning and sterilization:
The battery cautery is supplied non-sterile. Depending on purpose of use it could be necessary to sterilize it before. Take the batteries out of the handle before any sterilization by autoclave.
Approved sterilization methods are:
- autoclaving at 134°C, effective time 5 min.
- gas sterilization by use of ethylenoxid (ETO)
- sterilization of the interchangeable filament tips: up to 130°C only